Back to all posts
Posted on
Black History Month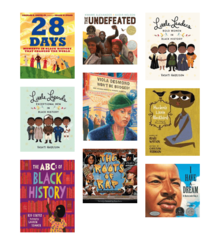 February is Black History Month!

Over the course of the next month, teachers will be exploring some of the past and present experiences of people of African descent in Alberta, Canada and beyond. 
If you are interested in learning more about this theme, you may want to browse some of the resources children will be exploring at school this month.
Le tableau périodique de l'histoire des Noirs au Canada.  Une ressource très intéressante offerte en français et en anglais. Elle peut être explorée par les élèves soit de façon indépendante (2e division), soit en classe avec l'enseignant (1e division). (Also available in English: The Periodic Table of Canadian Black History).

Oscar Peterson: musicien canadien de jazz (minute du patrimoine)
Quiz Radio Canada Le Mois de l'histoire des Noirs: Nos pioniers afro-canadiens en 10 questions
Amber Valley: 
Amber Valley is an all black settlement in Alberta that was established over 110 years ago. You can find information as well as two documentary style videos that tell the story of Amber Valley by following the link. 
Black on the Prairies 
This CBC project began in 2020. The experiences of Black people living in the provinces of Manitoba, Saskatchewan and Alberta are explored through 5 themes (migration, Putting in work, Black and Indigenous relations, Politics and Resilience, and Black to the Future).
A Black Presence in Alberta, late 1800s – 1970s 
This exhibit from the City Museum of Edmonton documents the long history of Black Canadians living in Alberta.
The Alberta Teachers Association (ATA) Library:
This guide contains articles, videos and other resources to support learning about Black History Month in Canada.