Counsellor's Corner
Bonjour!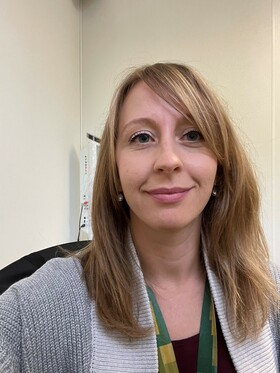 Bonjour Campbelltown families!
My name is Natalie Hanninen-Pathirana and I am the new school counsellor at École Campbelltown. I have been a teacher at Campbelltown since 2008 and am excited about stepping into a new role this year in a community I already know and love.
Many factors contribute to a student's success, including emotional and social factors. Our hope at Campbelltown is that all children in our school experience success and feel safe and welcomed when entering the building. I will be working closely with families, teachers, administrators and other community members to support our students this year.
Email:   natalie.pathirana@eips.ca
Phone: 780-467-5143
Available: Monday to Friday, school hours 
Please note that the counsellor's office is now near the front doors of the school, facing the main office. 
How Can Students Contact Me?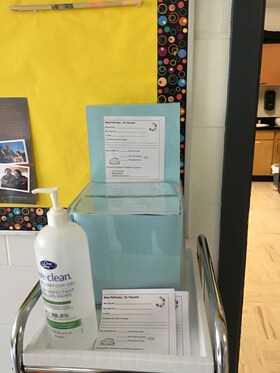 Students who would like to speak with their school counselor can either fill out a "Je t'écoute" form, or ask their teacher or parents to email me directly. 
While you are waiting to speak to me, remember that there are many other adults in the school who are also here to help you!  
If you need to talk with someone immediately, please contact Kids Help Phone by phone at 1-800-668-6868 or text 686868.
JUNE
As the end of the year slowly comes to an end, many families will be thinking about transitions into the summer as well as into the next academic year. Transition meetings are an important way to connect with next year's teacher and a helpful tool for helping some children with anxiety or special circumstances feel positive about the year to come. Transition meetings are often most effective in August, right before the new school year begins. Occasionally, June transition meetings may make more sense, for example, if your child's teacher is leaving the school. If you would like to book a transition meeting, please be sure to contact your child's teacher or the school counsellor at natalie.pathirana@eips.ca .
Although summer can be a great opportunity for children and families to relax and take a break from academics, teachers do generally find that children start the school year a little rusty. Incorporating some French TV shows, regularly reading and occasionally reviewing basic Math facts can be simple ways of helping your child maintain their end of year knowledge and feel better prepared for the arrival of September. 


Here are a few sites where children can access French reading material over the summer:
- Books, Sign-in with Class Code for free Access: https://jelis.rkpublishing.com/student/ 
- Online Books, Sign-in with Class Code for free Access: www.getepic.com
- Listen, read with help, comprehension questions. Many different types of texts. www.iletaitunehistoire.com   
- Magazine articles: blog.okapi.fr 
- Pick your story based on time. Can read on computer or print out. Jeunesse.short-edition.com 
 - Audio books in French: //stories.audible.com/discovry/enterprise-discovery-21122523011?ref=adbl_ent_anon_ds_ds_dccs_sbtp-0-6
May: The Power of Hope
Did you know that the University of Alberta is the only university in the world with a research unit devoted to studying the effects of Hope? Hope Studies Central devotes its research to the positive effects of hope on mental health and well-being.
"Hope is the ability to envision a future in which you wish to participate." (Jevne & Edey, 2003), 
After a little more than two years into a global pandemic, the Alberta Teacher's Association is also beginning to bring to the forefront the necessity and importance that hope plays in education. 
Hope helps individuals adjust to adversity and face transitions more smoothly. Hope has even been known to have positive impacts on physical health as well as academic and athletic achievement! Imagine your favourite sports team commencing an important game without a shred of hope… The mental strain of needing to overcome that hurdle in addition to the necessity to perform physically may just be enough to ensure a loss.
It is therefore important to remember the vital role hope plays when guiding children through challenging times or transitions. As well, it is also important to remember that hope is not synonymous with "being positive". Hope and struggles can and do co-exist. Hope is simply the ability to focus our lens on a better future, not an attempt to ignore the struggle. Coaching children to refocus their thoughts in order to "zoom in" on a more hopeful future can prove to be an empowering tool when teaching children about resilience and how to overcome adversity. 
If this topic interests you, you may also want to check out "The Power of Hope" , an article posted on the ATA website in April.
March and April
Programs available in Strathcona County
As we transition into warmer weather and longer days, many parents may be looking for new programs and activities for their children to explore. Many free youth and paid programs are offered in Strathcona County that allow children to enhance their skills and explore their interests. A few of these programs include:
Confident Kids: (free) Children develop confidence by interacting with their peers in a safe and positive way. This program will help children enhance their social-emotional skills in a safe and encouraging environment.
Big Brothers, Big Sisters of Strathcone County : Volunteers mentor children in an in person setting.  Programs and other resources for families can also be found on their website. The Big Brothers, Big Sisters "Learning Lab" is a place where kids can have access to computers, Wifi, a printer, and volunteers who can provide support with homework.
Wonder Women Girls Program : Program that focuses on girls and self confidence offered by the Boys and Girls Club of Strathcona County
Master Chef Cooking Program: Children learn about healthy eating and cook their own food. Offered by the Boys and Girls Club of Strathcona County
Art Night for kids: Children meet once a week to participate in Arts and Crafts activities. Offered by the Boys and Girls Club of Strathcona County
Parent to Parent: An info-session geared towards parents to support them in helping their children transition into the summer months with success.
February
With the arrival of Valentine's Day in February, we are reminded of the importance of relationships and friendships in children's lives.  
Regardless of a child's academic accomplishments, one of the most motivating aspects of school for many students is the time they get to spend with friends and classmates during the day. 
Relationships are a big part of growing up. Learning how to keep friends and treat others well is an essential skill, not only for a child's emotional well being, but also as a skill that will help them to work with a variety of unique personalities throughout their academic and future careers.   
Having a variety of friends helps children develop self-confidence, have a sense of belonging and be resilient. 

Prioritising healthy relationships.
Children learn by exposure, so modelling positive friendships as adults is a great way to provide children with a helpful blueprint. Regardless of the size of your child's inner circle, it is important to help them recognize healthy relationships, as well as develop the skills to maintain these. 
Taking the time to listen.
 It never seems to fail that children decide to open up and share what's on their mind at the most inopportune moment, whether it be bedtime, while rushing to eat breakfast, or during another one of the day's many transitions. Although busy schedules can make it difficult, taking the time to listen to what children have to say can go a long way in terms of helping them feel empowered and heard. 
Lifelong coaching.
Friendship woes are not uncommon for children. All individuals experience times of difficulties in their personal relationships at one point or another. Having someone to talk to about these challenges can help children navigate the nuances of these interactions and help them feel supported. Parents often make the best coaches for their own children, however, if you do not feel you are the best equipped to help your child navigate the complexities of certain situations, keep in mind that you are not alone! Teachers, school counsellors or other school staff frequently approached regarding children's friendships and emotional development. If you are feeling stumped while trying to support your child, feel free to reach out! 
Emotions tend to trickle down from one individual to another. The emotional well being of all of our students is important to us at Campbelltown as we are all connected and affected by one another!
Januray
Whether working on regular homework at home with your child, or completing assignments on Brightspace, it can be helpful for parents to be aware of some of the accommodations that are available to all students when they are at school. Understanding some of the tools children have access to at school can help parents better support their child when they are working with them at home. 
Here are a few regularly used strategies in our classrooms.

Alternative Seating:
Gone are the days where all students must sit, backs firmly pressed against the backs of their chairs and be still. Many students benefit from wiggling just a little when working. In order to encourage productive movement while working, many students will sit on wiggle cushions, rocking chairs, Hooki stools or even stand to complete their work. If you find your child is having difficulty completing school work at home while attempting to sit still in a chair, you may want to consider giving them the opportunity to sit on a cushion, stand or even sit on the floor and use a clipboard to complete their work. 

A variety of writing tools:
If you are finding that your child's writing is messy, or that they become very tired from paper and pen activities, you may want to consider having them choose a different writing tool. 
Tripod pencils are easily accessible and often used in younger grades to help children with their writing. Many older children may prefer to use a pencil grip that can be easily added on to any regular pen or pencil. Additionally, working on a slant board or another slanted surface can also benefit and motivate your child with their writing. 
Finally, a simple yet occasionally effective strategy can be to allow your child to complete their work using a pen rather than a pencil.  Although the permanence of pens should be considered when trying this strategy, some students who tend to accidentally erase their writing by regularly touching or rubbing their work with their hands may benefit from using pens instead of pencils when completing their work at home. 

Read&Write for Google Chrome:
Read&Write for Google Chrome is a tool that all students in our division have access to when logged into their school provided Google accounts. 
The application must first be downloaded using Google Chrome. Once the Chrome extension is ready, students can have written text (from the internet or a PDF document) read to them. Read&Write can also assist students in composing written texts by providing them with a variety of word suggestions. Finally, if students have access to a microphone at home, Google Read&Write will even allow students to access the "Speech to Text" function which allows children to speak into a microphone and have the application do the writing for them. 

Controlling ambient sound levels:
Sometimes it can be difficult to encourage other children or pets in the household to "be quiet" while their siblings do their homework. A strategy that many teachers use to help mitigate the effects of a noisy environment is to provide noise cancelling headphones or ear plugs. 
When these tools are not available or desired by children, playing instrumental music in the background can be beneficial.  This does not necessarily mean having "Mozart's Greatest Hits" on repeat! There are many different types of instrumental tracks that can be found for free on the internet. Some ideas may include "Coffee Shop Music", "Chill Hop Beats", instrumental beats, or instrumental jazz music.
December
December has been a month of giving here at Campbelltown! We are very grateful for the amazing support the Campbelltown family has shown by participating in our Holiday Food Drive and Christmas Hamper donations. 
Practicing gratitude is a great way to begin the Holiday season and to say goodbye to 2021. Although 2021 has had its ups and downs, we are truly grateful for the in-person learning that has taken place these past months! Hearing students laughing, running and talking (often in French!) in the hallways always brings a smile to our faces and even when the days get colder and darker, these small details of normal school life are something to be grateful for. Although the pandemic has been difficult for many, it has also served as a reminder not to take things for granted. 
Each family and individual has experienced this past year in a unique way, and to some, practicing gratitude may seem easier than it does to others. As 2021 comes to an end, I hope your family has the chance to find something they are grateful for, even if that something is small.
Here is a short list of some of the things I am grateful for this Holiday season:
I'm grateful for - 30 ℃ temperatures as my home is better equipped to handle it than the almost + 40 ℃ we experienced this summer as I do not have air conditioning!


I'm grateful for the beautiful Christmas lights and decorations in the neighborhood.


I'm grateful for the opportunity to be in the school and see students get excited about special event days such as Ugly Sweater Day and Christmas caroling.


I'm grateful each time I hear a student speak French as it warms my heart to see young children making efforts to learn a second (or third, or forth!) language and culture!


I'm grateful for the kindness of our Campbelltown staff and families!

If the Holiday season is an especially difficult time of year for you or someone you know, please know that many Mental Health Services are open throughout the Holidays to assist a wide range of people and needs. 
Here are a few helpful resources:
Alberta 211  This is the simplest way to reach out. This one resource will connect you with many more and will get you in touch with the right people. To reach by phone, simply dial: 2-1-1


Kids Help Line  Get support over the phone 24 hours a day, 7 days a week by calling 1-800-668-6868


Strathcona County Family and Community Services     Phone Number: 464-4044 

Solutions Navigators Phone Number: 464-4044
November
November
This past week at École Campbelltown, we celebrated "la semaine de la gentillesse" or Kindness Week. 
Tuesday we celebrated how everyone is unique with "Odd Sock Day". We saw many colorful mis-matched socks!
I had a chance to visit the Kindergarten and Grade 1 classrooms to do the "Wrinkle Heart" activity which provided a concrete example of the power of words and actions: despite taking action to repair misspoken words, or misplaced actions, "wrinkles" remain on our hearts.
Many classes took part in sharing circles, art projects and reading books that focused on celebrating our differences and embracing friendships.
Finally our grades 5 and 6 students took the time to write sticky notes with kind words and wishes for our school community, and stuck them on students' lockers and staff members' work spaces. 
If you have already had the chance to read the principal's update regarding our Holiday Donation Initiatives and you are, or know a family in need who would like to be included in these initiatives, please contact myself or M. Probert. 
October: Growing Strong Readers
Reading is everywhere! From reading a text message, to reading the latest news, to reading the menu at a drive through, it's hard to spend one day without having to read something! 
As much as reading is a necessity, it can also be an escape into a different world. This escape can sometimes be the simplest distraction after a stressful day!
"To Each Their Own Story"
This past week at Campbelltown we celebrated Reading Week! This year's Reading Week theme was "To Each Their Own Story" or "Chacun son histoire". The focus on each reader's connection to stories through their personal experiences is one that highlights the importance of choosing a wide variety of diverse texts when choosing what to read to our children.  
Literature can be a great way of starting conversations with children.  Books can be an easy tool when teaching children about the diverse perspectives and values of our fellow Canadians, as well as those of people from around the world. "To Each Their Own Story" highlights the importance of ensuring that our children are exposed to many perspectives throughout their childhood, thus enabling them to develop empathy by better understanding the realities and experiences of others.
The Importance of Daily Reading. 
One of the most spoken about benefits of regular reading can be seen in children's academic achievement. In addition to this, children can also benefit emotionally from having a predictable routine in which a regularly scheduled calm activity such as reading is incorporated as this can grant them a time and space to calm and recenter themselves on a daily basis. The consistency of this type of routine can also be very reassuring to children at a time where much of their regular anchors are constantly changing due to the ongoing pandemic. Reading with a parent or as a family can also solidify bonds, something which can give children confidence and a sense of belonging. 
Creating a routine around reading.
With the busy schedules many families need to navigate, it can often be difficult to make time for daily reading. A common trick to achieve this goal is to create a routine around daily reading. Many families encourage their children to read in bed before falling asleep as it can not only allow them to complete their daily home reading, but it can also serve as a useful way to help them slow down and start to feel sleepy before turning off the lights.
Establishing a solid routine around reading can also benefit the parent-child relationship if reading is approached as an activity that is done together. Children often love being read to by a parent, or may even love showing off the new sounds and words they have learned to read at school. If your child struggles with reading, taking turns between the parent reading and the child reading is one way to help keep them motivated. 
Reading as a family can even be the excuse you've been looking for to build a blanket fort with your child, and get out the flashlights for a special "camp out" reading session! Finding ways to make reading fun can turn a reluctant reader into an enthusiastic one! 
In the end, even if daily reading is not always achievable, some reading is always better than none!!!
SEPTEMBER!
Transitioning to the school schedule sometimes takes time. As a result, children may feel hungrier, be more tired, or experience fluctuating moods in September. Getting enough sleep and eating healthy can help navigate some of the additional stresses that occur while transitioning to a new school year.
Although your child may already know someone in their class, we encourage all children to try meeting new classmates and to make new friends. Learning how to navigate different personalities is an important life skill that children will be able to use throughout their lives when playing and working in different settings.
Occasionally, children may feel shy or not know how to approach a new friend.
Here are a few tips for younger and older students to help them feel confident when trying to make new friends.
1. Compliment the other person. Smile and give your new friend a sincere compliment.  This can be an easy ice breaker and a way to show someone you want to be friends.  
Examples:  "I like the tower you are building with those blocks."
  "Your sandcastle is really cool."
"I really like the picture you are drawing; you are very talented."
2. Look for common interests. If you see someone playing with a toy you like, or doing an activity that interests you, ask them if you can join them. Parallel play is sometimes a starting point for building friendships between children.
3. Help out when you can. If you see another student in your class struggling with an activity or seeming lost, don't be shy to help them out if you can!
4. Share your toys. Participating in games or playing with toys can be lots of fun, but sometimes including others can make the experience even better! Take the soccer ball out for recess and invite your classmates to play with you! This may be a great way to make some new friends!
5. Invite someone who is alone to play with you. Even if you are already playing with a friend, inviting someone who seems lonely to join you is a great way to make a new friend. We encourage children to have a variety of friends and to try to make friends with their friends' friends.
6. If you see someone is sad, ask them if they need help. Showing empathy tells your friends that they can depend on you to be kind and caring. This is a great starting point for any friendship!
7. Know when to walk away. If someone you are playing with starts yelling at you or throwing objects at you, don't be scared to tell them "I don't like that, please stop" in a confident voice. If they do not stop, walk away. It is important you let your friends know that you expect them to be kind with you, and that you communicate when you feel they are not treating you well.