Back to all posts
Posted on
Métis Artist in Residence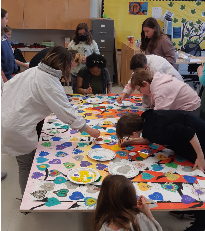 During the week of April 19th-22nd, École Campbelltown had the pleasure of hosting Métis artist, Connie Kulhavy as our Artist in Residence. As an artist, beader and knowledge holder, Connie spent time with each class sharing teachings, stories and Métis culture. In the end, two beautiful pieces of artwork were created showcasing birch trees and pointillism. 
Our final pieces were created entirely by our students. 5/6K began in designing the layout, placement and painting of the birch trees, while 6R chose the colors and painted the background. Then, during each class' visit with Connie, every student was able to paint a heart and add their own pointillism design to represent Métis beadwork and connect to the Earth. Some students chose the Métis five petal Prairie Rose while others created their own flowers and trees. In the end, we created something special that each student in the school contributed to in some way. 
We are currently working on finishing touches and are hoping to be able to display our final works of art shortly. 
A big thank you to Mme Kulhavy who organized this special event in our school!