First Nations, Métis and Inuit
Land and People Acknowledgement
We acknowledge with respect the history and culture of the peoples with whom Treaty 6 was signed and the land upon which Elk Island Public Schools reside. We also acknowledge the traditional homeland of the Métis Nation.
We recognize our responsibility as Treaty members and honour the heritage and gifts of the First Peoples.
We commit to moving forward in partnership with Indigenous communities in a spirit of collaboration and reconciliation.
Orange Shirt Day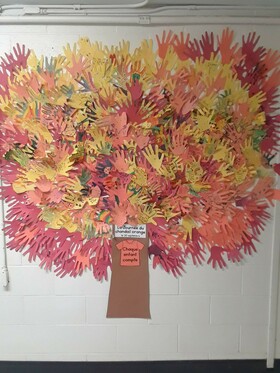 Students and staff at Campbelltown and the community have been encouraged to wear orange on September 30th to commemorate the history and legacy of residential schools and to reaffirm that every child matters. This annual Canada-wide event grew out of a gathering of survivors held in Williams Lake, British Columbia in 2013, where Phyllis Webstad, who attended St. Joseph Mission residential school, shared her experience of having her new orange shirt taken on her first day. September 30th was picked as the date because it is the time children had to leave their homes and return to the schools.
Mme Boswell also visited classrooms to discuss residential schools. During the lesson, students were read The Orange Shirt Story by Phyllis Webstad which tells the true story of her experience in a residential school. A discussion about Orange shirt day followed.
To further students' learning, families are encouraged to discuss Orange Shirt Day and residential schools at home. Conversation can include:
What do you think it might have been like to attend residential schools?

Why do wear orange shirts on September 30th?
If you would like to learn more about Orange Shirt day and how you can support your child, please feel free to contact Mme Boswell at 780-467-5143 or shelley.boswell@eips.ca.