Role of a Counsellor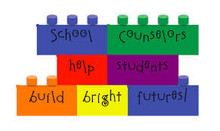 Social and emotional wellbeing are essential to your child's academic success. My job is to help support your child's academic, personal, emotional and social development.
SERVICES PROVIDED:
- Classroom presentations
- Group counseling (for example, Zones, study skills,anxiety)
- Brief solution-focused counseling
- Parent consultation
- Community resource referrals
- Consultation should your child need an ISP
* Please not that school counselors do not provide long -term or traditional therapy or counseling.
Referrals for outside counseling services are available for children needing more traditional therapy.
PARENTS, I AM HERE TO HELP YOU WITH:
- Exploring ways to help your child succeed
- Making referrals for community sources
- Understanding the developmental changes of childhood
 I CAN ALSO:
- Supply reference materials
- Provide information to help understand your child's special needs.
- Explain the results of specialized assessments
STUDENTS, I AM HERE TO HELP YOU WITH:
-Working out friendship problems
- Setting goals
-Working well with others
- Feeling good about yourself
- Adjusting to a new school
- Learning how to make decisions
- Managing your feelings (stress, worry,anger,etc.)
- Dealing with peer pressure and bullying